How to borrow money on Palmpay
PalmPay is a popular financial app in Nigeria that offers a range of services, including the ability to borrow money conveniently. Whether you need money for emergencies, business purposes, or personal expenses, PalmPay provides a seamless platform for accessing loans. In this article, we will guide you through the process of borrowing money from PalmPay, ensuring you make informed decisions and borrow responsibly.
Do you need a loan? Taking loans online is currently one of the quickest and simplest ways to get support in Nigeria. This is so because you can borrow money without collateral or a guarantor.
This article explains how to use any phone to borrow money from PalmPay by using code known as USSD.
Related Article: LOAN APP WITHOUT BVN IN NIGERIA
One of the apps that provides this chance is Palmpay through Flexi Cash PalmPay loan, that is easily accessible customers on mobile application and by using USSD code.
Without much talk, let start with the requirement you must meet to borrow loan from palmpay.
PALMPAY REQUIREMENTS TO BORROW LOAN
Palmpay loan
If you're wondering how to borrow money through PalmPay, you should be aware that there are some qualifying restrictions and requirement. These conditions must be met:
• You must be a citizen of Nigeria.
• You must have A PalmPay account that is registered.
• You must also have a valid form of identification (such as a national ID card, a driver's licence, or international passport). optional.
• Have valid Bank Verification Number (BVN). (Optional)
You can apply for a PalmPay loan if you meet all of these requirements. Let's now examine how to borrow money using PalmPay.
Once you have meet up with the requirements, just follow these easy steps to apply for a PalmPay loan:
How to Borrow Money from PalmPay mobile Application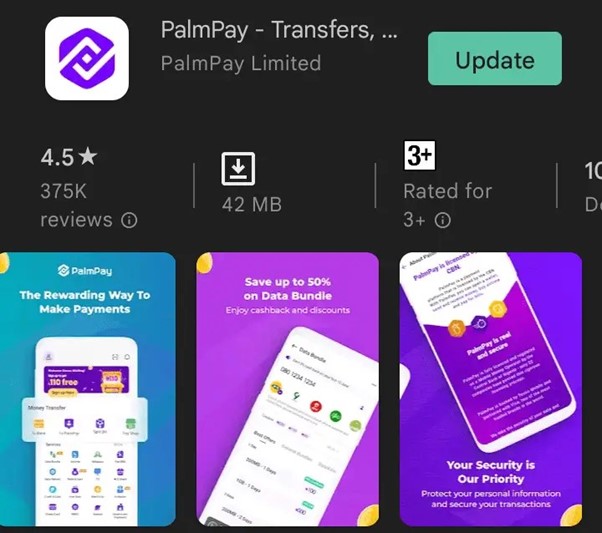 Palmpay app
1. Download and Install the PalmPay app and register an account first.
2. login to your PalmPay account.
3. Select the "Finance" tab at the bottom of the homepage.
4. Select "Borrow Now" under the "Flexi Cash" option.
5. If you are a new user, fill the loan application form with complete personal information, such as your name, contact information, and address.
6. Enter the loan amount you wish to borrow or go with your current limit.
7. Review the details of your loan application and press "Submit."
8. After you submit your loan application, PalmPay will analyse it and, within a few minutes or hours, let you know whether the loan has been approved or denied.
Those are the simple steps of borrowing money from PalmPay app on an iPhone or an Android device.
Before submitting your PalmPay loan application, it's important to understand the terms and conditions of the PalmPay. This will inform you of the consequences for defaulting on a PalmPay loan.
Palmpay loan code
As an alternative, you can borrow money using the PalmPay loan code. This is the best approach if you're looking for a way to borrow money through PalmPay without BVN. This is the procedure.
Palmpay ussd code
The steps to use the Palmpay USSD code for loans are as follows:
• Use the phone number registered with your PalmPay account and dial *652#.
• Choose the "Loan" option;
follow with the instructions to submit a loan application.
• Get your loan deposited into your PalmPay account.
Now that you are aware of how to borrow money from PalmPay using the app and the PalmPay loan code, let's discuss the interest rate of the PalmPay loan.
Palmpay interest rate.
The interest rate for a 30-day PalmPay loan ranges from 15% to 30%. Typically, this equates to 0.80% daily.
Keep in mind that depending on your credit score, this interest rate could be higher or lower. Loan interest rates are typically lower for borrowers with good credit scores, while they are frequently higher for individuals with poor credit ratings.
Also keep in mind that your loan's interest rate may increase if you don't pay back your PalmPay loan by the deadline.
Conclusion: PalmPay offers a convenient platform for borrowing money in Nigeria, allowing users to access loans quickly and easily. By following the step-by-step guide outlined in this article, you can navigate the loan application process with confidence and borrow responsibly. Remember to carefully review the loan terms, ensure you can comfortably repay the loan, and prioritize timely repayments. With PalmPay, you can meet your financial needs while building a positive credit history for future borrowing opportunities.
Related Article: Online Business that pays
NOTE: All content on this website/page is based on online research, individual experience and journalistic research. It does not constitute financial advice. ebusinessboom and its authors are not liable for how tips are used, nor for content and services on external websites.